Signing your work is a great idea because people will be able to recognize your work as soon as they see your signature, and it will help establish your brand. Whether you create serving boards, decorative boxes, or furniture, you can choose different methods to sign your woodworking projects.
Learn all you need to know about signing your work and adding a nice touch to your items using the following methods:
Branding Iron
Engraving
Laser Wood Engraver
Woodburning
Pen or pencil
Gearheart make the highest-quality branding irons for wood and wood crafts in the world, right here in the USA. Explore our range of branding irons today!
Branding Iron
Many woodworkers agree that using a branding iron is the best way for adding signatures on their woodworking projects.
One of the main advantages of using a branding iron is that you can create a branding plate with a design that best fits your identity, whether that is a saw, a tree, or whatever reflects the origins and nature of your business.
In the picture below you can you see how this company achieved this on their branding iron, using an anchor to represent The Salty Sea Shop.
When ordering a custom branding iron, you can personalize it as you want. This means that if you or your company already has a logo, you can use it on your brand. And if you don't have a logo or an established signature, don't worry, with Gearheart Industry's Online Designer you can create your logo with just a few clicks – yes, it's that easy.
Traditional branding irons are heated with a torch, but you can also get an electric branding iron. Whichever you choose, branding irons are super easy to use – you just need to heat up the brand and gently press it against your wood item.
Finally, branding irons can be used on any type of wood, although the darker the wood the harder it will be to read the mark.
Engraving
An engraving tool is a great method to sign or decorate your wood items. It offers you unlimited ways to personalize your creations, and it is ideal if you want to draw out details such as:
Your name
Date
Place it was built
The person it was built for
Since most of this information will be unique for each item you create, this tool allows you to personalize each signature as you wish.
But they are not the easiest tools to handle. It's all about applying the right pressure, and this comes with a lot of practice! We'd advise practicing your signature on some scraps of wood a few times to get a feel for how the tool works before you sign your final piece.
Source: https://www.pinterest.co.uk/pin/551620654367824392/
You'll also want to think about the wood you are working with, since the color showing through your etching will be the base color of the wood you use, and this is different in every type of wood. Walnut and cedar, for example, will create completely different looks.
Another thing to consider is the time it will take to engrave each piece, especially if you need to leave your mark on many pieces. Engraving is not quick work.
Laser Wood Engraver
Laser engraving is used for a variety of purposes such as jewelry or signage, and it is great to produce large amounts of personalized items. Since they can be used for very different purposes, it is important that you choose the right laser engraver to sign your woodworking projects – and this means that your machine must have enough power to engrave woods.
Unlike the genuine marks you can get with an engraving tool or a branding iron, the look of the marks that you get with a laser is artificial, so this may not be the best option if your craftsmanship doesn't align with this style.
Learn more about the differences between a Custom Branding Iron and a Laser Wood Engraver.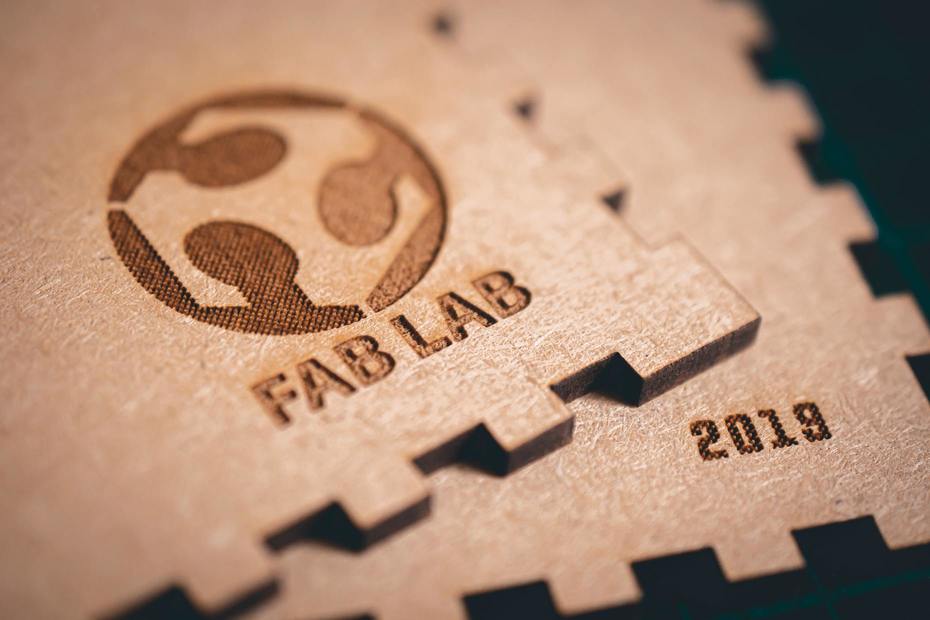 Source:https://unsplash.com/collections/QiFjR0kg9QQ/laser-wood-engraving
Woodburning
There are two options when it comes to woodburning. If you feel confident to use your artistic skills, you can draw your name freehand using a woodburning pen to create your signature.
Otherwise, you can use some tracing paper or a stencil to trace round and make it easier - the issue then is that you first need to get your logo or signature onto the paper or into the stencil.
While you can obtain great results with this technique, you may need a lot of practice to make it look good. If you are looking for a method that is quick and consistent to sign all your items, woodburning may not be the best option for you.
At Gearheart we think that woodburning is a great art but even masters of this technique, such as Loren, prefer using a branding iron for signing creations. Using her custom branding iron, Loren can mark her work quickly and consistently with a professional looking logo that also includes details such as her Instagram account and contact details.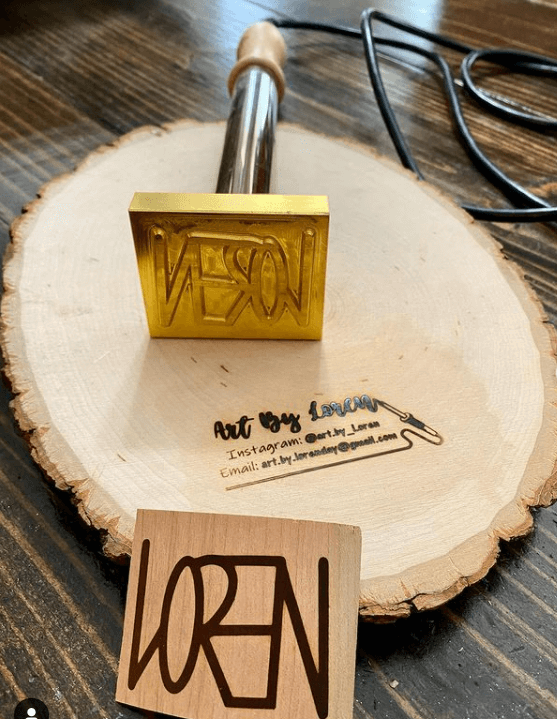 Source: https://www.instagram.com/p/CQj4Fo3M_YK/
Pen or pencil
This method is an easy and quick way to sign your projects, but the truth is that the results are not as elegant as the other methods we have mentioned above.
Also, the chances are that your name will fade over time. The aging of the wood and buildup of dirt and debris may cause your signature to disappear, even if you apply some type of protection on the wood.
If this is the method you decide to choose using a permanent marker will get you the best results.
When it comes to making a choice about what tool to use, it will be down to the individual and what best reflects their character. Each woodworker's creation is unique, as is their signature or logo.
Gearheart make the highest-quality branding irons for wood in the world, right here in the USA. Explore our range of branding irons today!