A custom branding iron and a laser wood engraver are two popular tools among woodworkers to sign their projects, but there are many differences in the process and the appearance of the finished work.
We're here to cover everything you need to know about laser engraving and using a custom branding iron, so that you can get the right tool to sign your woodworking projects.
Appearance of Marks Produced with a Laser Wood Engraver and a Branding Iron
The marks of a laser wood engraver and a branding iron are very different. It is helpful to know how these tools work to better understand why you get such different results.
So, how does a laser engraver work? Laser engraving is a process that uses a laser beam to vaporize a certain amount of material from the surface of the piece of wood. The material removed from the wood exposes an image on the surface, that can be your logo or a favorite image. Done well, the engraving will be clean and smooth, but the look will be artificial, unlike the genuine marks you can get with an engraving tool or a woodburning pen.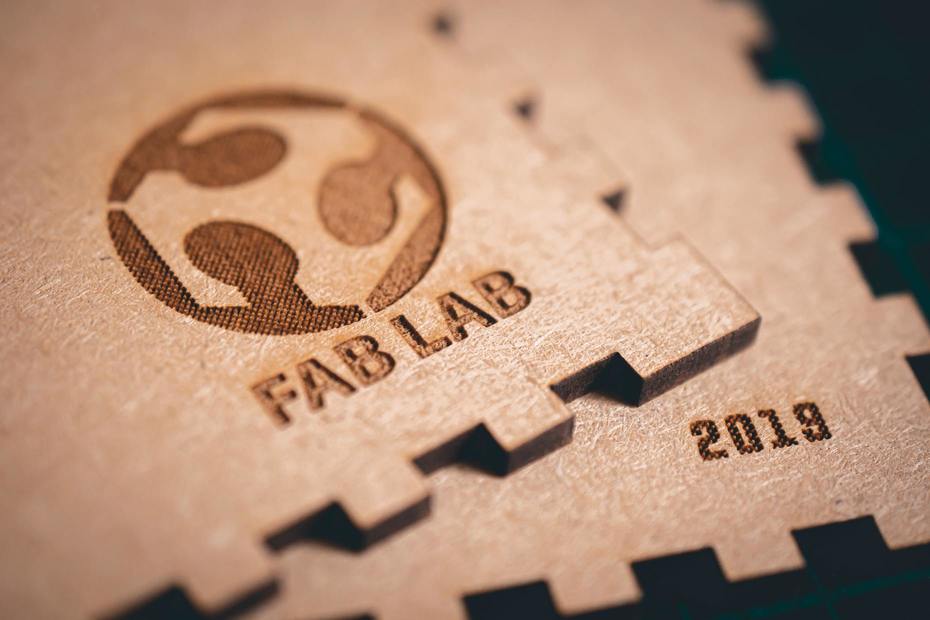 Source:https://unsplash.com/collections/QiFjR0kg9QQ/laser-wood-engraving
On the other hand, the marks of a custom branding irons have a rustic look. When you press the heated metal plate against the surface of the wood you burn the wood, creating a genuine mark that perfectly aligns with the craftsmanship of woodworkers and the pieces they create.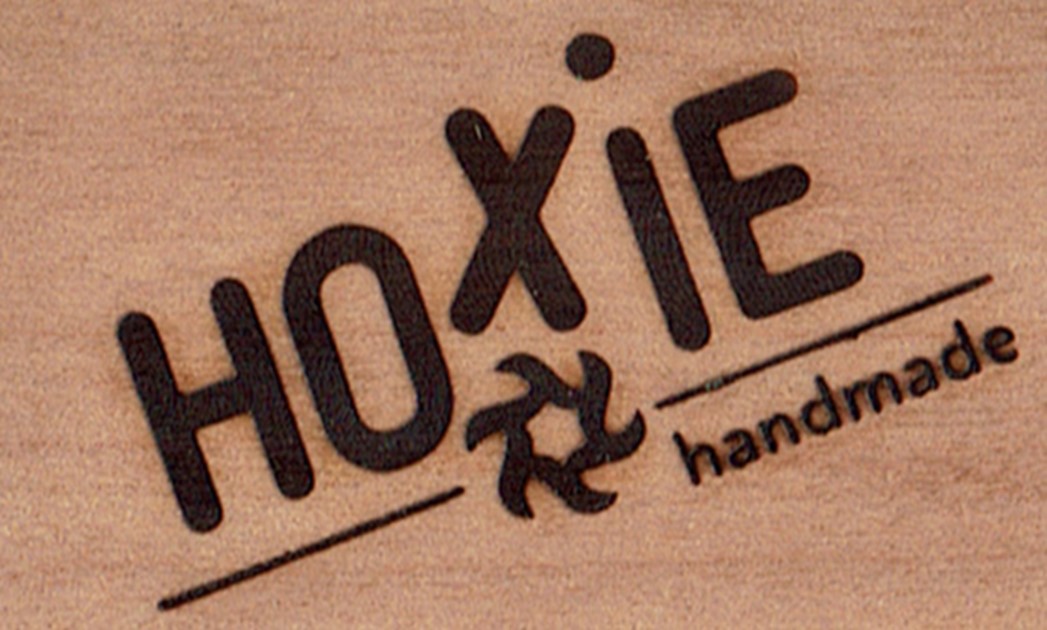 Learning Curve
Laser machines have a steep learning curve. In most cases, these machines need some type of assembly and the use of a specialized laser software. Only by choosing the right settings, power and speed according to the tone that you want to achieve, and the hardness of the wood you are marking, will you produce the results that you have in your mind. It goes without saying that you will need to practice a lot before mastering the software and the machine.
In contrast, branding irons are super easy to use, everyone can do it. You just need to heat your brand and place it against the surface of the wood you want to mark. Nevertheless, we recommend you do a couple of practice runs on a few scraps of wood to test your brand and discover the optimal dwelling time for the type of wood you are working with.
Tip: If you are looking for a tool to use straight out of the box, a laser machine may not be the best choice for you.
Design Options
One of the biggest advantages of a laser engraver is that it allows you to use multiple designs. You can use any vector or image with your software and engrave virtually any design you want. The size of the designs can also be changed to fit the size of the item you want to engrave. However, the bigger the picture, the longer it will take to engrave the wood; for large pictures, it may take over 2 hours for an image to be engraved.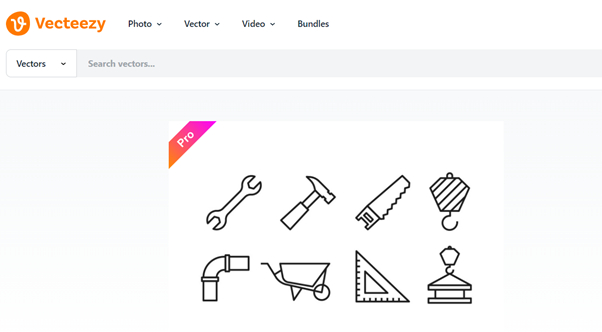 Source: https://www.vecteezy.com/vector-art/154431-construction-icon-pack
Custom branding irons have one design per plate and one size per plate, but you can have multiple plates. Gearheart's branding iron plates are interchangeable, so you can design multiple plates to brand your goods. This is particularly useful if, for example, you want to have one plate with your logo to sign on the front and a second plate with your details to sign on the back of your items.
Learn some tips about how to create a logo for your branding iron.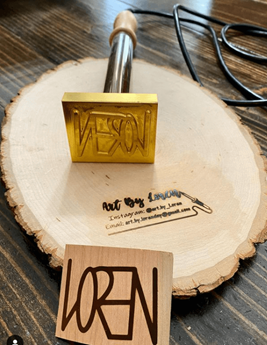 Items You Can Brand with a Laser Engraver and a Custom Branding Iron
Do laser engravers work on wood? Yes, they can be used on a wide variety of materials including:
But here's the thing: You will need a machine that provides high cutting power if you want to mark hard materials such as hard woods, and that means investing a lot of money. A low-powered laser can easily engrave cardboard, but it may struggle to produce a good finish on thick wood.
What about custom branding irons? Can you brand any material? You can brand almost any material including:
Soft and hard wood
Leather
Cardboard
Paper
Plastic
Food
Since branding irons literally "burn" the surface of the material, you do not need to worry about the thickness of the wood to always get a clear and crisp mark.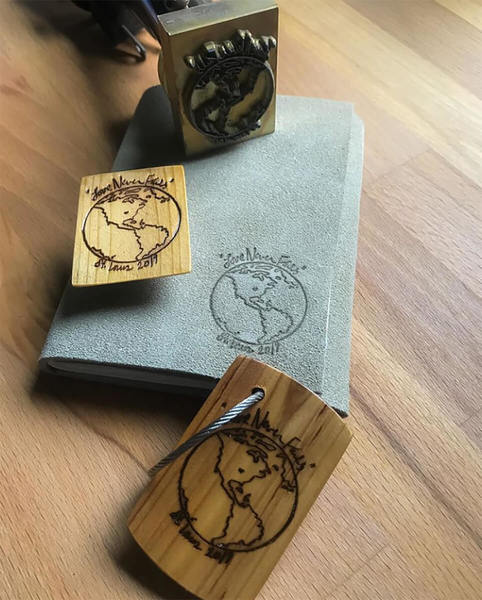 Applications
What is a laser engraver used for? Laser engraving is used for a variety of purposes ranging from signage to jewelry, and it is well suited to produce large amounts of personalized items you might see for sale online. Note that if you are looking for a tool to sign your woodworking projects, you will need a laser with high power to engrave hardwoods, so check the power of the machine to make sure it suits your needs.
Branding irons are well known among woodworkers to sign all their creations, no matter the type of wood you are using. They are also a popular tool to brand leather products or cardboard.
What about using a branding iron for mass production? While it may seem like a huge task to brand a hundred items one at a time, Gearheart's custom drill press mounted electric branding iron offers you the best of both worlds: a high-output branding system for your wood creations with the distinctive finish of your customized brand mark.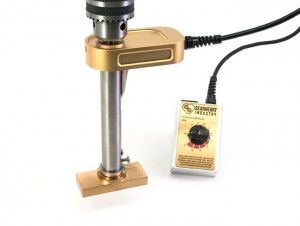 Cost of a Laser Engraver and a Custom Branding Iron
The price of a laser engraver ranges from $200 to $6,000 depending on factors such as the type of laser and the power or the working area. On top of that you may need to plan for ongoing care and maintenance costs. Before you invest in a laser engraver, it's important that you know the materials you want to work with so that you get the most appropriate laser engraver for the job.
How much does a custom branding iron cost? The price of a custom branding iron also depends on different factors such as the type of metal or whether you are going for a torch heated or an electric branding iron. At Gearheart, you can get a high-quality personalized torch heated branding iron for as little as $93.00; our branding irons should last a lifetime and there are no ongoing costs.
Conclusion: Custom Branding Iron vs Laser Wood Engraver
If you want to burn your logo on multiple items, then a custom branding iron is the best bet. It is durable and affordable, and you will sign your items in no time. Moreover, electric branding irons heat up to the same temperature each time, so you will get a consistent burn.
When planning to engrave multiple designs on mass produced items, a laser engraver may be a good option, but it is not the most efficient tool if you are just looking for an easy and practical way to sign your woodworking projects.
Sooner or later, most woodworkers look for a tool and technique to sign the works that they proudly make in their workshop. Whether you create cabinets or photo frames, and whether you use hardwoods or softwoods, you want a reliable tool that you can use to sign your wood items.
Gearheart create the best branding irons in the USA and have hundreds of happy customers. Order your custom branding iron today!