Wood burning or "pyrography" is an art whereby you hand decorate wood with the controlled application of burn marks to create intricate or simple designs.
Loren is a master of this art and we were delighted to catch up with her and discover some secrets to perfecting the art of wood burning.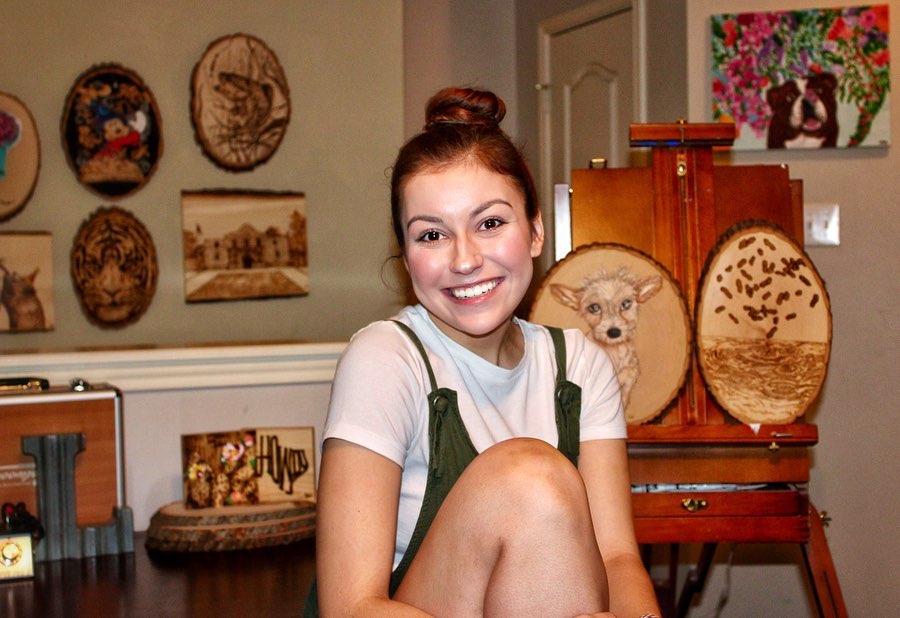 Hi Loren, we love your work. How did you start wood burning?
The first time I ever wood burned was as an assignment in my advanced art class in 8th grade, and I loved it.
I picked it up quickly with little to no instruction, other than to not burn myself, and I started practicing regularly in my freshman year of college.
From that point on, I spent a lot of my free time practicing, getting better, and learning new techniques and pretty soon I was selling my artwork instead of just showcasing it around my house!
That's great. So, what tools do you use?
The photo below shows all the tools I have tried, and those I continue to use, so I'll talk you through them.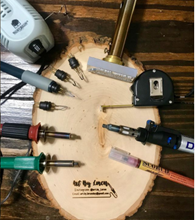 I originally started wood burning with the Walnut Hollow Creative Woodburner Value Pen , but I found that the pen was pretty hard to work with, as there were no temperature settings.
Then I bought the Creative Versa-tool, which came with a temperature gauge and allowed me to wood burn for hours on end without burning my hand. This really helped improve the quality of my work.
In 2019 I received the Colwood Super Pro (not pictured) for my birthday, and I have used this burner for all of my recent products, while occasionally returning to some of my old wood burners to help with certain details.
I finish every piece by burning my name on the front and use my custom Gearheart Electric Branding Iron to stamp my logo and contact information on the back.
Having a custom branding iron adds a certain touch of professionalism that I did not have before, while still maintaining the home-made feel that customers love.
What is the best wood for wood burning?
You can wood burn on any wood that is untreated, unsealed, and has a smooth surface. The most popular types of wood used are basswood, birch, and pine.
Light-colored woods with little grain are typically preferred for a blank canvas, but pieces that contain more can challenge you to incorporate the natural grain within your design.
My personal favorite wood to use is unfinished basswood that still has natural bark on the edges.
How do you get your wood burning art ideas?
Most of my art is based on custom commissions sent in by people that want a portrait of an animal, person, or a view they liked.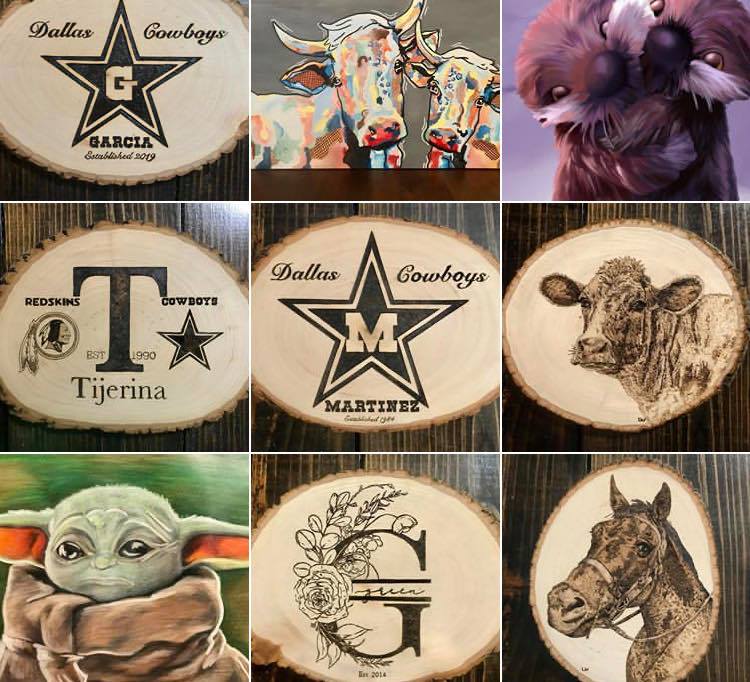 When I have time to create my own designs, I like to draw from things that inspire me, personal experiences, places I've been, or things that I think my audience would like to see.
My favorite pieces are ones that have a special meaning to the person that ordered the work, or to me.
Any tips for beginners?
My best advice to beginners of wood burning is to be patient, taking the time to learn and improve.
Practice makes perfect, so find what works best for you and use that as your foundation, but most of all, have fun!
Another tip is that before I start burning, I like to use a pencil to lightly outline what my project is going to look like. It also helps to have a measuring tape or ruler handy, to ensure that sight lines and portraits are spaced out correctly.
Use this time to experiment, try different styles and you might discover something you really enjoy.
What is the most satisfying part of your work?
I love the joy I can bring to others through my artwork. Wood burnings make great and unique gifts, especially if they are customizable.
Gearheart create the best custom branding irons in the USA and have hundreds of happy customers. Order your branding iron today!