Whether you want to leave your mark on an exclusive handbag or a pair of traditional moccasins, you can use one of our custom leather stamps and a handheld mallet to personalize your leather goods.
Check out our simple guide to getting started in stamping leather with a cold stamp and mallet.
1. Choose Your Leather
There are two main options available: chrome tanned leather or vegetable tanned leather. Chrome tanned leather is softer and more pliable, and it is ideal for products such as shoes that need to be pliable in order to bend as you walk. Vegetable tanned leather tends to be a little stiffer and is best for tooling and carving, being known for its shape-holding ability and durability. If you have never used an iron brand before, we'd recommended doing a few practice runs on scraps of leather to see how many times you need to strike the stamp with the mallet for your design to imprint on the leather.
2. Wetting The Leather
Use a sponge to lightly damp the leather as evenly as possible. Leather is a tough material and, as it absorbs the water, the fibers swell and soften. The leather should be damp, but not soaking wet.
Top tip: Let the leather return to its natural color, and then begin stamping. If your leather dries before you complete your design, it will be necessary to remoisten.
3. Stamping Your Leather
Place the leather on a firm surface, then position your custom leather stamp against the dampened leather so it is standing up vertically but resting evenly on the leather. Tap or double tap the mallet down vertically against the stamp to imprint the design; the more area of design or logo on the stamp, the more pressure will be needed.
Top tip: Make sure you hold the handle of the stamp down firmly.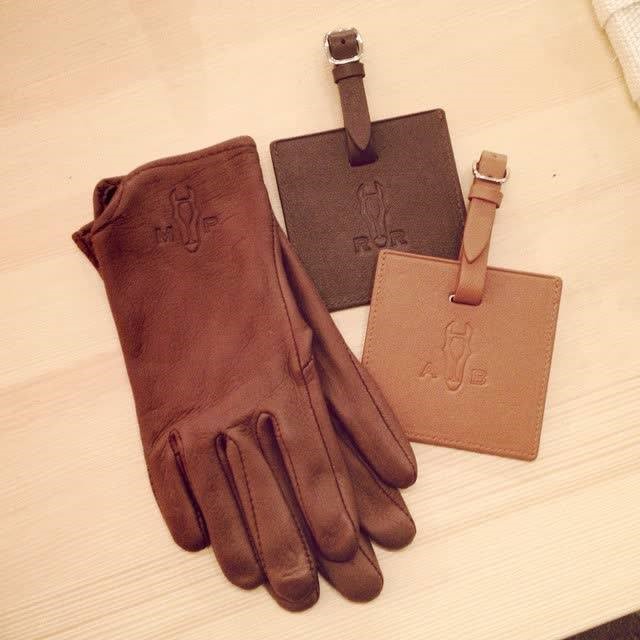 4. Final Touches
Do you still need to put your piece together? Remember that leather must dry completely before you keep working on it. We're pretty sure you an expert at stitching or lacing your new item.
Top tip: You may want to apply a light coat of leather finish to protect the leather and preserve the qualities and appearance of your design.
Got an idea? Get in touch and we'll find the right tool to suit your need!